---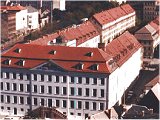 ---
Contact
Institut für Pädagogik
Franckesche Stiftungen
Franckeplatz 1, Haus 2 bis 7
06110 Halle (Saale)
Institutsdirektorin
Prof. Dr. Maja Schachner
phone: +49-345-55 23826
maja.schachner@paedagogik.u...
Franckesche Stiftungen
Haus 5, Raum E.20.0
Franckeplatz 1
06110 Halle (Saale)
Stellvertretende Institutsdirektorin
Prof. Dr. Bettina Hünersdorf
phone: +49-345-55 23800
bettina.huenersdorf@paedago...
Franckesche Stiftungen
Haus 6, Raum 1.31
Franckeplatz 1
06110 Halle (Saale)
---
---
Login for editors
---
Department of Education and Pedagogy
Welcome to the web pages of the Department of Education and Pedagogy, where we present an overview of our research and teaching activities.
The Department's eight research units are dedicated to advancing theories of educational science informed by the social sciences and cultural studies. We place the use and development of historical and empirical methodologies at the heart of our research work. The research areas we cover reflect the range and diversity of education and pedagogy as a discipline; alongside general educational science (philosophy, history and social and cultural dimensions of education), the Department's work encompasses more professionally orientated sub-disciplines (early childhood education and care, youth and community education/social pedagogy, adult and continuing education). The two research units with foci on the psychology of education support innovation in empirical psychological work; their activities centre on research into teaching and learning/psychological assessment of knowledge and on the analysis of socialisation in conditions of cultural diversity.
The Department runs Bachelor's, Master's and PhD degree programmes in educational science and delivers classes for students taking teaching degrees at MLU.
Students and academics in the Department, located in the historic Franckesche Stiftungen buildings in the south of central Halle, benefit from a compact campus and well-developed infrastructure. Committed to a spirit of academic dialogue, we are proud to provide an intellectually stimulating space for study and research to our students and academics from Germany and elsewhere. We maintain close links to the University's departments of school-based and rehabilitation education, whose work is strongly related to ours, and to MLU's other humanities and social science departments and research establishments, including the Center for School and Education Research (ZSB) and the Interdisciplinary Centre for European Enlightenment Studies (IZEA), alongside external research institutions such as the German Youth Institute (DJI).
The Department cooperates internationally with diverse institutions and encourages its academics and students to gain international experience.
Current cooperative research projects with Department involvement include:
the German Research Foundation (DFG) research unit 'Mechanism of elite formation in the German Education System'
the interdisciplinary doctoral research group 'Intermediation and Translation in Transition' (Vermittlung und Übersetzung im Wandel), funded by the Hans Böckler Foundation
The tech4comp project, funded by the German Federal Ministry of Education and Research (BMBF), exploring the personalised development of competencies via scalable mentoring processes
Head of Department:
Deputy Head of Department:
---
---
---
---