---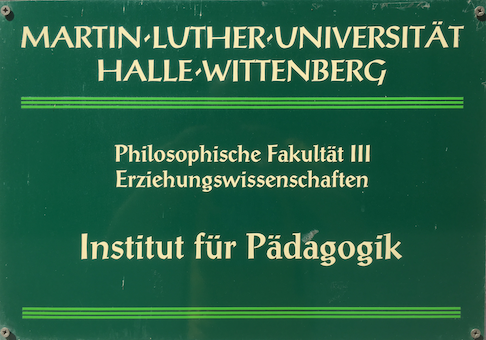 Courses and programmes
Das Sommersemester 2021 findet im den Hauptfachstudiengängen Erziehungswissenschaft an der Martin-Luther-Universität als Hybridsemester mit einer Mischung aus digitalen und präsenten Arbeitsformen statt. Die Präsenzangebote finden unter Berücksichtigung der Hygienemassnahmen mit reduzierter Teilnehmerzahl und oft mit einem streaming der Veranstaltung ins Netz statt.
Generelle Informationen über den Studiengang und die Gründe, das Fach zu studieren, finden Sie in unseren Beitrag zum Hochschulinformationstag auf Youtube
Online-Gesprächsrunde für Studieninteressierte
Erziehungswissenschaft (Bachelor, Master)
am Mittwoch, den 09.06.2021, 17:00-18:30 Uhr.
Teilnehmende: Prof. Dr. Cathleen Grunert (Studiengangsleitung); Dr. Sven Werner (Bachelor Fachberatung), Dr. Katja Ludwig (Bachelor Fachberatung), Dr. Holger Backhaus-Maul (MA-Fachberatung).
Ort: Online, Meeting-Link:https://uni-halle.webex.com/uni-halle/j.php?MTID=m664575d3e87b9e306c8fc481edbea016
Meeting-Kennnummer: 121 176 1394
Passwort: 3buJp2bRD9?
Gastgeber-Kennnummer: 467378
Über Telefon beitreten
+49-619-6781-9736 Germany Toll
Zugriffscode: 121 176 1394
Courses
Degree courses
Institutions
Student union
Our students can become involved with Institutsgruppe Pädagogik (IG Päd) and the Fachschaftsrat (student union of the faculty). Both groups are led by students for students.
Links
---
---