---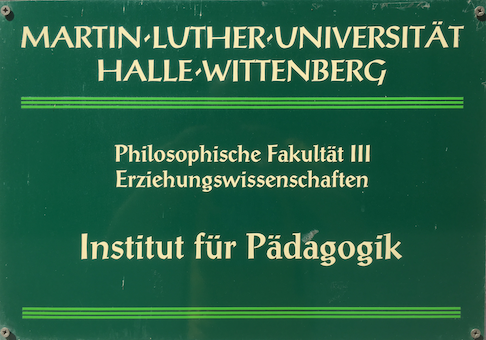 ---
---
---
Contact
Anja Bönisch
phone: +49-345-55 23809
anja.boenisch@paedagogik.un...
Franckesche Stiftungen
Franckeplatz 1, Haus 3
Raum E.08 (Erdgeschoss)
06110 Halle (Saale)
postal address:
Martin-Luther-Universität
Halle-Wittenberg
Philosophische Fakultät III - Erziehungswissenschaften
Studiengangsmanagement
Anja Bönisch
06099 Halle (Saale)
---
---
Login for editors
---
Courses and programmes
NEWS
---
Winter semester 2022/23 in presence
According to the current information from the rectorate and the faculty, the forthcoming winter semester 2022/23 will be held as an presence semester as long as the corona and energy situation allows it. Since there is still a risk of infection due to close contact with people in courses and examinations, wearing a medical face mask (surgical mask or FFP2 mask) is recommended. Different rules may apply for visits to public areas (student service, examination offices). Students and teachers are asked to pay particular attention to vulnerable groups.

The detailed decision is available in the documents area on the special Corona page. documents area on the Corona special pages.
Further information on how to deal with the corona virus in relation to studying and teaching is provided on the following MLU pages:
Questions & Answers for students to deal with the corona virus

Bachelor & Master orientation events on 10th an 11th of October 2022 (dies academicus)
Due to the orientation days for new students on 10th and 11th of October 2022, the Decan of the Faculty of Humanities III announced Dies Academicus. These two days should be used for information and orientation in the newly started study programs. Therefore, no courses will take place during this time.
Events for Bachelor and Master students in Educational Science:
10/10/2022 Master introduction (MA 120)
11/10/2022 Bachelor introduction (BA 180 & BA 90)
Both events will take place in the German Hall in House 7 (Francke Foundation, Franckeplatz 1). You can find more detailed information on the relevant sub-pages of your study program.
Information on the courses of study in educational science
Courses
Semester dates / Lecture times

HIT Video for Bachelor & Master in Educational Science
In our YouTube video contribution at the MLU´s virtual university information day you will find further information about the degree program and the reasons for studying the subject of educational science for a bachelor's or a master's degree.
University Information Day: Information on BA/MA Educational science
Institutions
International
Below you will find information of the International Office about the possibilities of studying abroad or doing an internship abroad. Furthermore you will be informed about funding opportunities, exchange programs and partner universities of the Martin Luther University Halle-Wittenberg.
Student union
Our students can become involved with Institutsgruppe Pädagogik (IG Päd) and the Fachschaftsrat (student union of the faculty). Both groups are led by students for students.
Events of the IG Pedagogy
The institute group Pedagogy cordially invites all students of the Pedagogical Institute to the following events at the Francke Foundations:
Stud.IP Introduction
Thursday, September, 29th 2022 from 1:30 p.m. till 4:30 p.m. at room 237 (Building 31 )
Further events of IG Pädagogik will be published here at the beginning of semester
---
---